Guitar Teacher Amplifies Music in the Community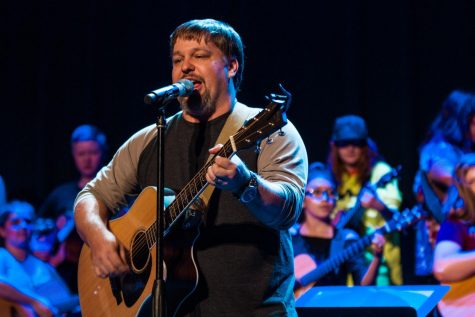 Walking into Salina South Middle School, guests may never know how accomplished the music program is. The accomplishments range from winning a Disney Channel Music in Our Schools Award, to winning the chance to meet Weezer. How did this happen one might ask? It started with guitar teacher Matt Gerry.
Matt Gerry was originally hired at South Middle School for the position of a music teacher, but since then started a guitar/advanced guitar program within the school. He originally only taught music classes, but pushed to create a guitar class after seeing how excited and eager his students were to learn the guitar. His one class guitar program has now developed into guitar classes all day ranging from 6th to 8th graders. Gerry and the continually growing guitar program have earned many achievements up to today.
Gerry taught himself guitar when he was a junior in high school, and has played ever since. He currently plays in a band at his local church, and teaches lessons to people of all ages. His love for music is apparent through this exponential growth of students enrolling into his class.
"My very first guitar class had only 20 students and now I have 225 students."
Starting the guitar program helped Gerry inspire and create change in many students' lives. Some students have gone on to create their own bands and perform around town or record their own songs.
"I have a job where I come to work and I'm excited to go to work everyday. Teaching is hard. Every year it seems to get harder, but every year I still enjoy what I do. I have past students that email or call me telling me about the memories they have from their guitar class and how much it means to them."
The original "boom" for the guitar program was the very first year when his class entered a contest and won. Gerry was flown out to Chicago and got to meet the band Weezer. He video chatted with students who were back in the classroom so that they could experience it as well.
After winning the Weezer competition Gerry said, "That's when things went crazy."
Gerry would receive calls from people out of state asking about the guitar program and tips on starting one. There were several articles done over the south guitar class and as it gained popularity, the class size began to grow as well.
In 2016 Gerry started an advanced guitar program. One of his two advanced classes submitted a video they made into a Disney Channel contest. The video ended up winning the regional contest. A young music star named Tegan Marie performed for South Middle School. Along with that, South Middle School also won a $5,000 check, new guitars, and a golden Mickey Mouse trophy. The kids in the guitar program performed for the school as the opening act for Tegan Marie.
The video Disney produced about Tegan Marie visiting South Middle
To help introduce others to music every year Mr. Gerry involves his classes in the community. One of them being the Elementary Tour where the guitar students pair up with the vocal students and go to every elementary school in Salina to perform for them. Throughout the day-long trip, the group also performs at retirement homes. This annual field trip gets the elementary students interested in the music program and brings awareness to the positive impact music can have on students. In addition to the hard work put into the guitar class, Gerry helps with an event called "305 Live." This is where a band named, "Joe's Pet Project" comes to Salina from New York and collaborates with students in writing and performing songs at the Stiefel Theatre. The guitar class performs three or four live songs with the band for a live and televised audience.
Here are some moments captured that show all the things Gerry does within the community with his students.