What To Know About Boy's Swimming
South High boy's swimming season started Nov. 14 and officially ends Feb. 20. This year there are 17 swimmers and one diver on the team, including four freshman.
When freshman Cale Hammond was asked about his first season he said, "Pretty good, I think I've made a lot of improvement since the beginning of the season."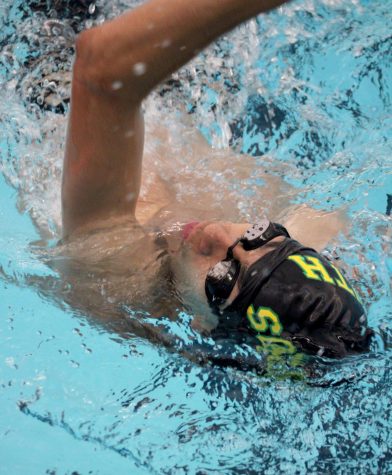 When all meets of the season are finished, league then follows. League is a competition that includes all of the teams in the ACTVL Division 1. Which includes Derby, Campus, Hutch, Maize, Maize South, Newton and Salina South. This event is Feb. 11 for South swimmers. Almost all swimmers are included in this event, and many swimmers see it as a final chance to go to state.
State is then after league, and includes all boy's swim teams that qualify in Kansas. As of now, one athlete from South is going to state, senior Haden Smith. Smith is going to state for diving, and qualified the first meet of the year that took place on Dec. 1. Smith has been going to state since his freshman year.
"I look forward to going to state and doing my best. Since I've gone every year I know what to expect, so I'm not nervous," Smith said.
The official end of the season is followed up with Swim to a Wish from Feb. 25 to 26. Swim to a Wish is a fundraiser in partnership with the Make-A-Wish Foundation. This year the team will swim 100 miles for the fundraiser.
"Swim to a Wish is a fun opportunity, we get to raise money for Make-A-Wish kids and have a fun night of swimming," junior Mason Gardner said.