With the new year coming in full swing, many new students are excited to start high school and find their passion. For those interested in a future in healthcare, Health  Occupations Students of America may be the club for you.  
Ran by Melissa Mahoney, HOSA is  a state and nationally recognized organization that focuses on enriching students and showcasing their skills. "We do a lot more on the community side, volunteering in the community and hosting blood drives," says Mahoney. 
Students hone into their soft skills, learning how to improve people skills. 
"And then also, I think for the medical field, it prepares them a little bit because they get some practice with technical skills like suturing, being hands on with patients, practicing First Aid, CPR, things like that. Saving lives."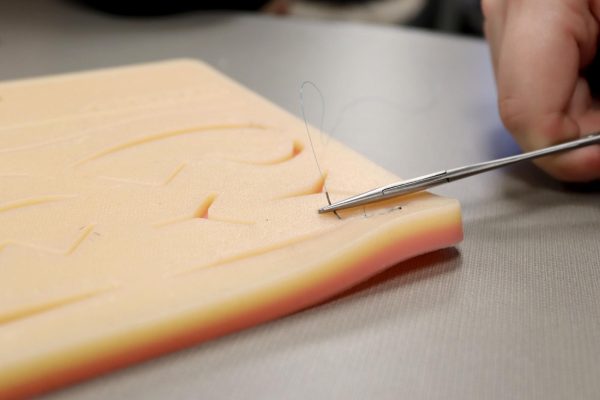 HOSA is a year round club; to get in, Mahoney prefers students who have taken both Medical Investigations 1 and 2, as that shows their dedication to the field. Most of the time, Mahoney will personally invite promising applicants, but other students can still reach out and apply if interested. If there are too many applicants, she may request teacher recommendations. After being accepted, students will sign a waiver and pay a $20 fee. Members must complete at least 20 volunteer hours to come back the next year. 
Students that are not interested in HOSA, but still want to enhance their medical knowledge, working towards their Certified Nursing Assistant certificate is an option. The CNA course provides students with classroom learning of anatomy and physiology, hands-on practice and 25 hours of clinical practice. Offered as concurrent enrollment by Salina Area Technical College, students can enroll in their junior or senior year. Concurrent enrollment allows students to take college level courses while staying at the high school.  Some requirements before enrollment may be taking a Reading Placement Test and a Tuberculosis Questionnaire. Fees for the course may vary. Students must speak with their counselor to enroll into next semester's course.